We maintain environments identical to those in the manufacturing plants that we ship to in Japan and other parts of Asia. We then provide seamless vehicular transport to these plants with the highest precision. As an expert in this transportation field, we observe the relevant laws and regulations and use the latest technologies to handle everything from shipping to installation of ultra-high-precision and heavy equipment to meet the demands of tomorrow.
We have a strong commitment to the successful transportation, delivery and installation of liquid crystal/large semiconductor equipment, large high-precision equipment andother clean systems that must be protected from dust. Our commitment extends tomeeting the tough requirements involved in transporting these systems, controllingvibration, shock, humidity and temperature during transportation, and maintaining thequality of the items being shipped. First, precision machinery is placed on a low-vibration, low-dust electrohydraulicmegalifter, which lifts the machinery prior to shipping. To bring the machine into the site, qualified personnel with training both in Japan and overseas call on their sophisticated expertise and vast experience to provide safe and reliable services, right up to machine installation.
Cargo Handling
Mobilization,disassembly,horizontal pulling,and installation of precision instruments and heavy equipment, as well as deconstruction and removal Cargo handling for semiconductor fabrication devices and liquid crystal manufacturing devices within a clean room, as well as mobilization and installation
Semiconductor equipment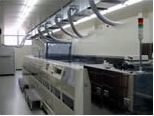 All-wheel airsuspension trailer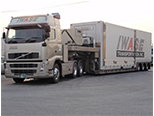 Room temperature and humidity control unit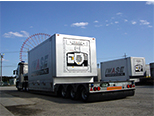 Air module

At the time of movement of equipment,
attaches in the equipment bottom,
and advances, making it float with air.
Weight spread over large area.
Safely within floor load specs.
(Also easier to move)
Weight is concentrated.
Exceeds floor load spaces.
(Also more difficult to push)
The equipment move photograph using module.